Event Information
New Stories : New Futures
Dates: 

August 20-21, 2021 

 

Hours of Operation: 

9 p.m.-1 a.m. 

 

Where: 

Will Rogers Memorial Center 

Will Rogers Memorial Center & Facilities, 3401 W Lancaster Ave.  Fort Worth, Texas 76107 

 
Free Ticket Registrations Details: 
Tickets are free and timed. Please reserve here! 
It is important to arrive during your 30-minute window. Personnel will be at the front gates waiting for you. Please have your tickets ready when you arrive.  
Parking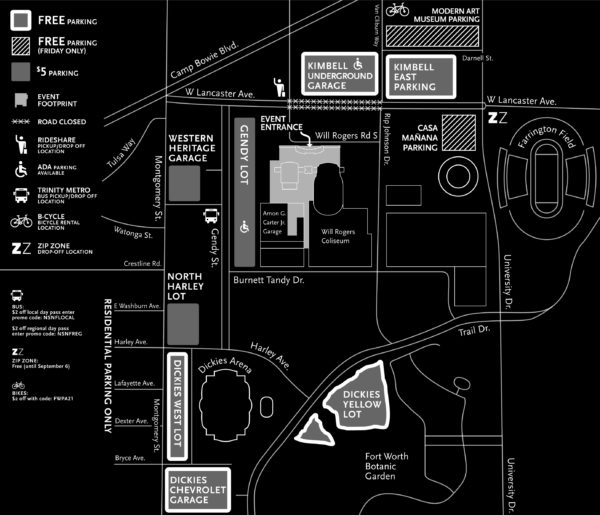 Free parking is available Friday and Saturday night at Dickies Arena and the Kimbell Art Museum parking lots, in addition to paid parking at Western Heritage Garage and the lots located on Gendy St near the Will Rogers Memorial Center, which will be discounted to $5 per car for all event guests.  
****Lancaster Avenue will be closed in front of the Will Rogers Memorial Center from 8 p.m.-1 a.m. each night from Will Rogers Rd to Van Cliburn Way. 
Public Transportation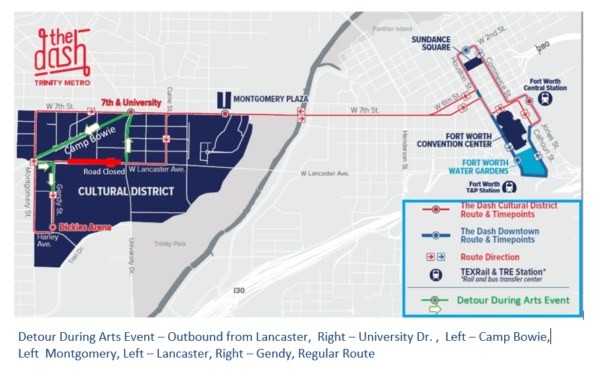 THE DASH Runs until 10:44pm Friday* Runs until 12:44am Saturday* 
The Dash is Trinity Metro's electric bus that takes you between Downtown Fort Worth and the Cultural District. Download the GoPass app to purchase tickets. For $2 off local day pass enter promo code: nsnflocal or for $2 off regional day pass enter promo code: nsnfreg 
ZIPZONE Runs until midnight Friday & Saturday 
ZIPZONE is a ridesharing transit solution that provides trips within specific boundaries of the Southside Zone. Download the ZIPZONE app to order your ride. Ride ZIPZONE for FREE through 9/6.  
BIKE SHARING Runs 24/7 Everday 
With stations across Downtown, the Cultural District, the Trinity Trails, the Stockyards, Near Southside, Near Eastside and on the TCU campus, get to where you're going on two wheels. Download the BCycle app to purchase a day pass and check out a bike. For $2 off, enter promo code: FWPA21 
About the Event:
New Stories: New Futures is a free two-night outdoor new media art exhibition, featuring audio/video works projected on all four sides of the 204-foot tall Pioneer Tower by internationally renowned artists Refik Anadol and Quayola, along with works by ten regional artists on the grounds of the Will Rogers Memorial Center. 
Timing: 
It is important to arrive during your 30-minute window. Personnel will be at the front gates waiting for you. Please have your tickets ready when you arrive.  
Important Info: 
COVID-19 SPECIFIC ASSUMPTION OF RISK: The Attendee understands that (I) COVID-19 is an extremely contagious disease that can lead to severe illness and death, and (ii) there is an inherent risk of exposure to COVID-19 in any public place where people are present, including the Exhibition, and in exchange for admission voluntarily assumes all risks related to exposure to COVID-19.  We recommend that you wear a face mask and practice social distancing where possible. 
Please be aware that you will be viewing artworks in a dark environment.  
Only service animals will be allowed inside the exhibition area.  

Our COVID-19 Safety Precautions

The safety of our guests for this event remains our priority.

The Arts Council and AURORA have implemented or exceeded the safety precaution the Centers for Disease Control (CDC) advises for outdoor events:

Social distancing: New Stories: New Futures at Pioneer Tower was organized to allow visitors to maintain at least 6-feet distance from each other. Our ticketing system allows us to control the number of attendees inside the gates to help you maintain social distancing. Arriving at your designated time window is important to help us prevent crowding and allow for distancing.

Touchless ticketing and information apps: All of our event ticketing and information is touchless. All information about the New Stories New Futures is available online, as well as on event signage via QR codes throughout the exhibition grounds.

Wearing a mask is highly encouraged. All event staff and volunteers will be masked. We will also have free masks on-hand for visitors.
FAQS 
How much do tickets cost? 
They are free 
Can I get tickets at the door/gate/entrance? 
Tickets need to be registered in advance for timed entry. There will be some tickets available at walk up but since we are working with a timed entry it is highly recommended getting your tickets in advance.  
What time should I arrive for my timed entry? 
Please do not arrive more than 15 minutes before your entry time. We want you to have the best possible experience and this will help with traffic flow throughout the exhibition.  
How will I get my tickets if I get them online? 
Your tickets will be sent to you via email. When you arrive at Will Rogers Memorial Center please have the confirmation email ready on your phone or in print. 
Can I show my tickets on my phone at the door or do I need to have the physical tickets with me? 
Either digital or printed tickets will work. You will need to have a way to show your ticket with the time and date at the gate in order to get in. 
Can I access the exhibition in a vehicle or bicycle? 
The exhibit can only be accessed in person for the safety of all patrons and artwork. 
Is outside food and beverage permitted? 
Outside food and beverage are not permitted. Food and beverage will be available for sale inside the exhibit space. 
How long does the exhibit take to experience? 
The exhibit time is entirely up to you. A lot of the work is time-based and you can spend as much time with it as you would like as long as the exhibit is open.  
Will I be able to smoke? 
There is no smoking allowed on the exhibition grounds at New Stories: New Futures.  
Are there restrooms available? 
Restroom and restroom facilities will be available throughout the exhibit space. View the map here. 
Once we exit the exhibition, can we come back? 
Once you have exited the exhibit space you will have to register again to be readmitted.  
Is there a way for me to get updates as the event gets closer as well as on the day of the event in case there are weather or traffic delays or other problems that could affect the event? 
Please check the website www.newstoriesnewfutures.org for any updates and be sure to sign up for our newsletter (add link), as well as follow our Instagram (add link), Twitter (add link) and Facebook (add link) pages. We highly recommend you calculate travel from your location ahead of your commute. We highly recommend you calculate travel from your location. 
Are cameras allowed? 
Yes  
 Will there be any food or beverage sales at the exhibit?  
There will be limited food and a variety of beverages for sale inside the exhibition space.